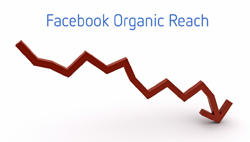 By Craig Sherman
This is a must-read if you or someone you are paying is spending more than an hour per week on your social media efforts
Let's face it, Facebook, Twitter and LinkedIn are making it increasingly difficult for social media marketers to reach an audience with their content. Even your own fans & followers are only exposed to a small fraction of the posts you labor over in hopes of tapping into what you were promised when social media became a billion-person party. As paid advertising is rolled out across social networks, we can expect this trend to continue. Does that mean the era of earning a return on your time and money in social is dead? Not by a long shot. You just need to tweak your strategy a bit. Read on for your new road map.
OLD METHOD. (Does this sound familiar?)
Most social media marketers (agencies and brand marketers alike) fall into this category and most are struggling to see results as they fight the current. These marketers have pinned the majority of their hopes and efforts on direct community engagement, which looks like this:
The idea is, figure out the most compelling content your prospects are searching for and push it out to them at a time when they are most interested in consuming it. This content frequently comes in the form of a blog post followed by a series of tweets and status updates driving traffic to the blog post.
To accomplish this, these marketers have amassed an arsenal of tools, like Hootsuite, Buffer, Bitly, Google Analytics, and a host of others.
THE PROBLEM WITH THIS STRATEGY
Facebook reach has declined significantly following a recent algorithm change
Twitter & LinkedIn are rolling out new paid channels that make it more difficult for your organic messages to cut through the clutter and hit the mark.
It takes a significant amount of time to create fresh content, juggle all these tools and keep track of what is or isn't working
THE NEW WAY TO OBTAIN BUSINESS RESULTS WITH SOCIAL MEDIA
Here's an import thing to realize if you want to recapture your Facebook mojo: Facebook reach didn't go away with the new algorithm update, it just shifted away from brands and into the hands of the friends of your target audience. Facebook decided that people want to see comments from friends instead of status updates from brands that they have 'liked'. As a marketer, your job is to figure out how to capitalize on this shift. One way to do this is to make it easy for your existing customer base and prospects to share your brand's information and recommendations with their friends, family and colleagues via social media. Your strategy will now looks like this:

You are going to need a new set of tools to accomplish this, or get yourself a social suite to keep everything neat and tidy under one login. Here are some innovative tactics brands are using to generate peer-to-peer sharing results:
Use your social suite to integrate sharing applications throughout your website and all customer touch points that incorporate an incentive for your customer and their friends:
a. Replace all your share buttons with custom share buttons that add a special offer to the share, like a coupon or white paper link.
b. Add short URLs or QR codes to the bottom of all your white papers, sales collateral & business cards prompting a social share along with a coupon or white paper link.
c. Add video and text testimonial widgets to key pages of your website and your fan page that allows customers to share their recommendation on all social networks along with a coupon or white paper link
d. Run mobile optimized photo contests on your fan page that award something to the photos with the most votes to encourage sharing. Add a coupon or white paper link to all the shares
e. Be sure your social suites add users of ALL of the above activities to a social CRM database so top influencers can be identified and cultivated into brand advocates
Continue to publish to Facebook, Twitter & LinkedIn, but integrate customer generated content into your scheduled posts.
a. Link your testimonial campaigns from step 1 to all of your social media accounts, so when you approve the video or text testimonials, they are automatically posted to your social accounts and YouTube channel in addition to your customer's social accounts
b. Link your contest from step 1 to all your social media accounts, so when you approve a photo submission, it is automatically posted to your social accounts in addition to your customer's social accounts
c. Make your brand posts more engaging through the use of video content. Use your social suite to record a 'talking head' video to break that hot news story versus the same text post all your competitors are pushing out. Your social suite should be able to upload the video to your YouTube channel automatically so you are adding to your SEO machine with every post
d. Publish to all of your social accounts in one step, but add calls to action that are appropriate for each network. Your social suite should allow you to add a different call to action to the end of your Facebook and LinkedIn posts as well as customizing your tweet with hashtags and @mentions
e. Schedule your posts based on your objective. Your social suite should be able to schedule your post based on the optimal time for clickthroughs, purchases or white paper downloads
CONCLUSION
The Facebook algorithm isn't the end of organic social media marketing. It just provided an opportunity for you to get your brand into the news feed of your target audience while your competition works twice as hard and barely keeps their nose above water.
###
Craig Sherman is the founder and CEO of Sociamonials based in Elk Grove, California.