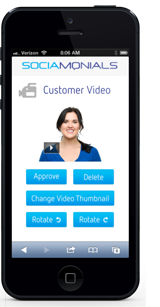 By Craig Sherman
There are three reasons why video testimonials rock the customer experience right now:
1. Peer recommendations can quickly turn prospects into buyers.
2. People trust others like themselves.
3. Video is the most shared brand content type on Facebook.
Social networking has grown at a crazy fast rate. There are more than a billion people on Facebook and more than 225 million on LinkedIn.
What has also grown quickly is the popularity of video on these and other social networks. In fact, video is the most shared brand content type on Facebook according to a recent study by Zuum.
A whopping 75 million people in the U.S. watch online video every day, streaming nearly 40 billion videos every month. YouTube accounts for the vast majority of this activity. More than a billion unique users visit there every month, watching four billion hours of video.
People from a variety of backgrounds globally are now comfortable viewing, sharing and shooting video with their smartphones. Some people in third world countries might have a phone with video capability even if they don't have a computer, TV or landline.
Many social networks like Instagram and Twitter are leveraging the popularity of video. Both just added easy-to-use video features, like Twitter's Vine, recently and consumers are already becoming addicted to them. Additionally, there is social marketing software called Sociamonials that makes it easy for a marketing manager to approve and upload fan videos to his company's YouTube channel and several social networks at once by just clicking one button from a smartphone.
Now that the technology has caught up to consumer adoption of social video, companies need to kick it into high gear and focus on pushing more videos, especially fan testimonials out to prospects on-line.
Don't think that every testimonial has to praise a product. It can also praise a company's integrity or customer service. As you probably know from either your own personal experience or from managing a customer service department, people will switch vendors due to bad customer service.
If a client is about to switch to a competitor sees a credible compelling video testimonial of someone talking about a great customer service, she is more likely to stick around thinking that maybe the bad experience was one-off and won't happen again. And everyone knows it's easier to keep your current clients then to get new ones.
So talk to your marketing department or community manager about super charging your video testimonial program. The time is right and your chief financial officer will thank you.
###
Craig Sherman is CEO and founder of Elk Grove, California-based Sociamonials, Inc. which offers a full social marketing suite with an easy to use video testimonials feature. His blog can be found at http://www.sociamonials.com/blog